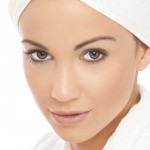 Airbrushed makeup has been around since the 1980s and since its introduction for film leaped into popularity for stunning bridal makeup and other photography.  With the innovations into high definition photography it has become the gold standard for television and film.  It is also experiencing increased popularity in makeup studios and clinics because it creates a look that cannot be created any other way.  It is like a thin layer that floats over the skin, rather than sinking into it and emphasizing lines, wrinkles and blemishes,  giving a fresh flawless appearance.  (If you ever see airbrushed makeup that looks heavy or chalky, it is not properly applied.)  Today airbrush makeup is popular for all photographic moments including brides, proms, graduations, special occasions and SELFIES.
What makes it special? 
Airbrush makeup creates a polished look that is simply not achievable with traditional application. In order for the makeup to go through the gun, its particle size is much smaller.  Properly applied, it lays down a very thin layer of makeup that seems to disappear on the skin rather than sink into pores or lines.  Unlike traditional makeup it doesn't absorb into the skin leaving blemishes exposed, rather it diffuses them so they are much less noticeable.  

Airbrush makeup is basically water and mineral pigment.  It comes in three formulas water based, silicone based and water proof.  Water based is made of water and finely ground pigments that allow the skin to breathe, is hypoallergenic and has no sticky feel.  The silicone based formulas are designed to be long wearing with no fading. Silicones can slightly fill in depressions are are popular to hide skin imperfections.  Water proof is just that, designed for long term wear and must be removed with a specialty product.  They are selected to use to camouflage/hide tattoos or other skin discolorations for several days at a time. They are not bothered by moisture or sweat.  Because of the possibility of skin issues with the silicone formulas, we only offer the water based or water proof (alcohol based) products.

Airbrush makeup does not transfer.  Slight rubbing or brushing against someone or something does not remove the makeup.  The only way non-waterproof formulas will transfer is if they get wet.  So it is best to blot, not wipe tears or other moisture.

Airbrush application of makeup also helps reduce cross contamination from client to client or artist to client.  With the use of the airbrush gun, the need to use fingers is eliminated along with the risks of spreading germs.
At Esthetics NW we will be happy to assist you with either airbrush makeup application or training on how to do it at home.  We offer a professional quality device that can be used with any airbrush foundation or select from our wide array of foundations, blushes, contours and skin enhancers – no quantity purchases or automatic resending of things you don't want.  Mail order is available.   Call Judi for complete details: 541-344-7789.