Is Coconut Oil Right for YOU?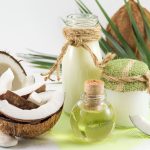 Every few months we see news of the latest ingredient. Coconut oil is the latest on the news But how do you know it is the right or even safest ingredient for YOU?
They hire great marketing agencies to tout their new product… one they have invested a lot to develop.  But there is a gap between the market hype and consumer best choice. Here's my insider scoop on what you're being sold.
There are two different type of product companies.  Those who develop blends to solve different problems. And those who base all of their products on a KEY ingredient.  Right now that ingredient is coconut oil.
But is coconut oil right for you?
Coconut oil is a tropical oil obtained from the nut of a palm tree. The jar of coconut oil in your cupboard validates that this oil solidifies at room temperature.
In comedogenicity tests that date back to the 1960s which are the gold standard for products produced since, it was shown to be a comedogenic ingredient – meaning those oils tend to clog pores. If you are using a product with coconut oil in it and noticing more breakouts…it's probably your product.
If it is only on your skin temporarily, as in a makeup remover, it's probably fine.  But it shouldn't be left on your skin.  People who use it as a hair conditioner should keep an eye on scalp or hairline breakouts it could trigger.
If you bleach or color your hair or it is weather damaged from time in the sun, coconut oil might be a fine conditioner, but try to keep it off your scalp.
If you have fine, thin, dry, sensitive skin, you might be okay with it.  But a product with jojoba oil might be a better choice.  It is an ingredient that doesn't solidify at room temperature.  Its comedogenicity rating is nil.  It actually has the ability to emulsify sebum so helps acne clients rather than aggravates their skin.
So when the next…newest and greatest ingredient shows up in marketing…save yourself some money.  Investigate the ingredient first to see how it might work with your skin.
If you need help trying to sort through all the products on the market and their hype…speak to a trained qualified esthetician who has taken the advanced classes to help you make smart decisions.