Permanent eyeliner is the process of implanting pigment into the skin.  It is a form of tattooing. While it is permanent, it does require the color be refreshed periodically.  Frequency of re-enhancements depends on the technician's skill with their device, but also it depends a lot on the client.  Certain medications and/or medical conditions seem to cause more color loss or quicker fade.  The more medications the client is taking the odds are the color won't hold quiet as long before needing refreshed.  I typically see my clients every 2-5 years.  The eye is a sensitive area but because of the thinness of the skin, the area responds very well to
During an initial consultation always wear your eyeliner so your technician can see what your style and goals are.  Very wide eyeliner, tails and wings are a bad idea with cosmetic tattooing because the tattoo does not age well.  And what looks good on us in our 30's or 40's may not look so good in our 60's, 70's or 80's.  Why?  Because when we apply cosmetics topically we automatically make adjustments as our face changes with time.  The tattoo in the skin can't do this.  So we need to take a more classical approach and add the fashion look with cosmetics when it is appropriate.
People who are sporty naturals and don't want a "made up" look, love lash enhancement.  With lash enhancement tiny dots of pigment are placed in between the lashes. The healed result is the appearance of thicker lashes.  This works well for both women and men.  I have found it works best for clients who have darker lashes.  For those with blond lashes, the dots don't blend in as well.  For those with blond eyelashes, go for a very thin line. Anyone can wear a thin natural look eyeliner.
A classical eyeliner starts with a natural eyeliner but then widens it out a bit. For safety reasons, eyeliner should not go closer to the tear duct than the last eyelash, nor should it extend beyond the last eyelash at the outer corner.  The structure of the skin changes at that point and there is a high risk of migration which is not correctable. If you want it to extend farther or you like to have the outer corner upper connect to the outer corner lower, this is better done with makeup.  Classical eyeliner can be applied either narrower on the inner corner and wider as it moves to the outer corner or in a dome where the widest part is directly over the iris.
If you like a slightly more smudgy look, this can be achieved with a halo color.  A halo color is an additional line placed just above the upper eyeliner. It is designed to disperse more and give a soft halo to the eyeliner.  Halo colors are lighter and softer than the black or off-black eyeliner colors. Most pigment manufacturers have moved away from the dated green, violet and navy eyeliners, opting instead to recommend dark brown, brown black or black.  While I used to do dark brown or brown black, I now avoid this whenever possible.  Browns are a much weaker color and fade faster. Black goes into the skin better and stays much longer.  For clients that feel black is too harsh for them, a deep moss or charcoal color is a good alternative.
Many ophthalmologists recommend permanent eyeliner for their clients who have a lot of allergies or sensitive eyes. Its also great for people who have lost their close up vision or struggle with dexterity.  Permanent makeup does not smear, smudge, or bother your contact lenses. It stays on right through whatever your busy lifestyle may encounter.  To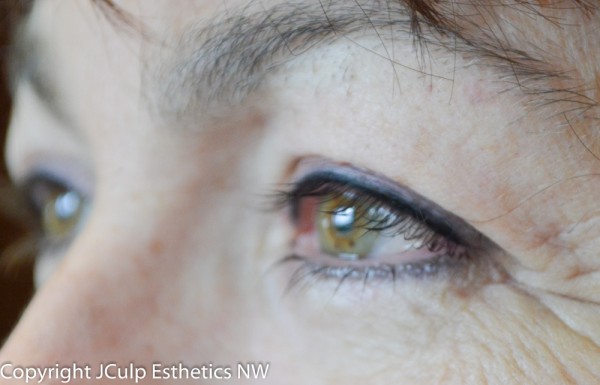 help it last the longest, wear dark glasses when you are exposed to UV light.